Stevens.ca Review:
The Stevens Company - Canada: Medical Supplies and Equipment
- The Stevens Company, a leading medical supply distributor in Canada, takes pride in offering exceptional customer service and a wide range of quality medical supplies to their customers. Over 100 years of experience serving the Canadian medical community.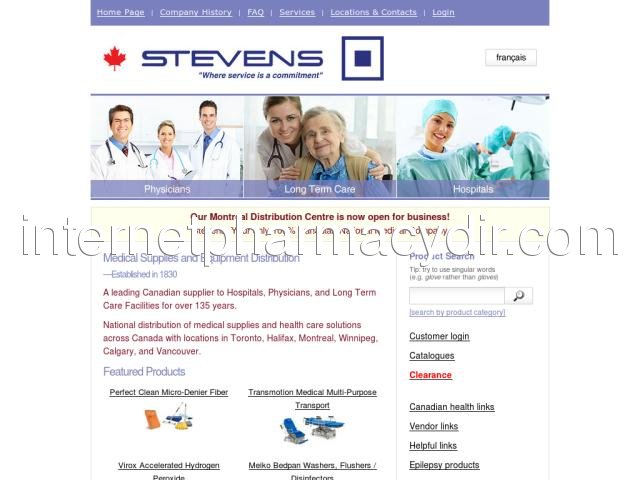 Country: North America, CA, Canada
City: Mississauga, Ontario
J. Brown - Diana Gabaldon is a genius!Diana Gabaldon is a genius! There is so much going on in each story and she finds a way to do it so that you are not overwhelmed by the massive amount of details and interweaving storylines. It sucks you in and you just can't put the book down. I love these books! I have read that others were disappointed with Voyager, I could not disagree more. It was every bit as captivating as the 1st 2 books. I can't wait to start Drums of Autumn!
Erica Stephan - Where There Is No Health InsuranceI bought this book for traveling in Latin America but upon returning home have nicknamed my copy "Where There Is No Health Insurance". It's readable and specific (no medical euphemisms) and doesn't take the usual home health manual tack of "if you suffer anything more than a paper cut, you must go immediately to a Licensed Professional who will charge you $500 to recommend rest and fluids." My advice to the uninsured is to read this book CAREFULLY from cover to cover, then go to Mexico and stock up on basic antibiotics, etc that are available over the counter there. You will no longer have to choose between ignoring your health problems and incurring massive debt (and people claim this book is not relevant to the US!)
JAPWhite - At Home in MitfordThis is the first book in Jan Karon's Mitford series. Father Tim is an Episcopal priest in the small town of Mitford N.C. It is a very small mountain town, a place where God's love and grace are available to all, whether of Father Tim's church or not.
A wonderful book full of love and humo. it is a place for all and a wonderful read!
Stephen K. Buchly - Killing Jesus ...a historical pictureBeing a history teacher and a Christian I wondered how Bill O'Reilly would be able to separate the history of the man known as Jesus and the religious Son of God beliefs of Christians. By intricate detail into the political time prior to Jesus' birth, during his stay on earth, and his departure O'Reilly paints an exacting picture through details documented but seldom discussed. From the documentation by Chinese astronomers who chronicled the "star" to the west in 5 BC, to the 80,000 Jews per square mile in Jerusalem, to the details of Romans in authority, the unquestioning dedication of the Roman soldier, to the reasons behind Pilate's not wanting to get involved, O'Reilly accomplishes just what he said he intended to do show the historical picture of the times that resulted in why Jesus was crucified.